Wooden Watch Shop
Stylish. Elegant. Unique.

About us
---
The Wooden Watch Shop is where you can choose high quality hand crafted timepieces from some of the top brands in the world of bamboo and wood watches.
Fall in love with the look, the feel, the style. Whether you are buying for yourself or as gift for that special person in your life, family or friends, add that personalised touch by having your mens or womens wooden watch engraved with your own custom message or logo.
Sustainability is important. Planting a tree for every wooden watch purchased is our way of giving back to the environment, contributing to biodiversity and combating climate change. Click the links to find out more about projects in the UK and US: One Tree Planted and The Woodland Trust.
---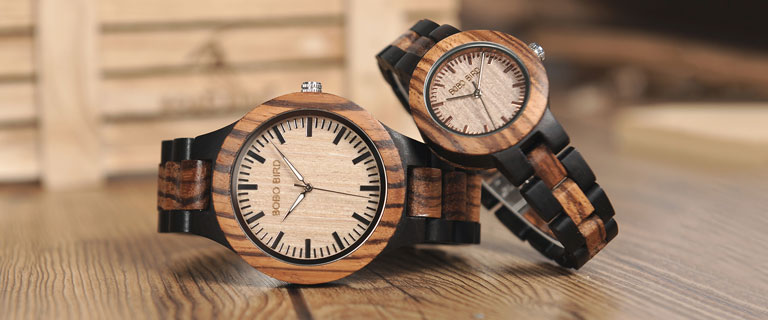 Wood Watch UK Wooden Watch Shop
---
When you have time on your hands, you have the freedom to explore and make the most of life.
Therefore, a stylish watch can be a reminder of the wonderful things in life, as well as being an essential tool in remaining on time.
The watch a person wears says a lot about them and whether the choice of watch is functional, fashionable or personable, the right wood style watches make an ideal accessory.
For eco friendly watches that are as unique and as stylish as the individual, check out the best wooden watches in 2020, available from the
Wooden Watch Shop
.
With the finest wooden watches UK residents can choose from, there is no reason for not having a stylish reminder of what the time is.
A wood watch makes the ideal gift
You'll find that the highest standard of wood watch UK people can choose from, makes the ideal gift for someone special in your life.
Each wooden watch is unique and with wood ageing over time, the watch takes on a character of its own.
For a treasured gift, why not consider buying the best standard of
engraved wooden watch UK
consumers can buy, or even selecting one of the most stylish personalised wooden watches UK residents can choose from, all available from the Wooden Watch Shop.
As you would expect from a modern wooden watch company, we boast an extensive range of styles and sizes for mens and ladies wooden watches, including top brands such as Bobo Bird watches, Bewell watches and UWood watches and Shifenmei watches.
If you are looking for the most stylish
mens wooden watches
, or the most elegant
ladies wood watches
, the range on offer from the Wooden Watch Shop is where to buy timepieces that ooze sophistication.
Whether you are looking for a
his and hers
wood watch combination or you want a gift that is ideal for a special person in your life, a hand crafted wooden watch is a perfectly unique gift that will be cherished for many years to come.
You can depend on a wood watch all year round
While the style and nature of some wooden watches for men and women hark back to a more rustic time, we also offer very modern quartz wooden watches with durable mechanics.
We also have dependable self-wind automatic wood watches made for all conditions and requirements, making it the perfect bamboo watch UK buyers are looking for.
There is also a lot to be said for the environmentally friendly nature of watches made from wood.
An increasing number of people are looking for wooden watches on sale based on the environmental impact and lessening the negative pressure we place on the earth.
If you are looking for reliable, stylish and cool watches that gives something back, the best standard of mens and womens wooden watches you can choose from will ensure that you have the best wooden watch that makes stands out from the crowd.
Whatever matters to you most in finding mens or womens wooden watches, be it style, functionality, presence or
value for money
, a wooden watch is a watch that always delivers.
Wooden watches engraved
With some of the best wooden watch brands around, our timepieces come with the option to have your own custom engraved watch.
You can also go one further and have your own personalised photo wooden watch. Photo engraved wooden watches can add that personal touch when looking for special occasion gifts such as wooden watches for groomsmen or bridesmaids.
A wooden timepiece doesn't only look good on the wrist. A wooden pocket watch is a stylish compliment to any waistcoat. We stock a variety of different
pocket watches
suitable for any occasion.
We also have a range of wooden sunglasses which provide the perfect accessory match for any wooden watch or pocket watch. With a variety of styles, wood colours and lens colours, all our shades are UV400 and polorised to provide all round protection.
The Wooden Watch Shop has the perfect range of wooden watches and we look forward to providing you with the best time of your life.